What it takes to save lives and cut risks in Kentucky coal mines.
Cover story originally published November 2006 in The Lane Report, a Kentucky business magazine.
By Andy Olsen
Standing underground more than a mile inside the Bledsoe coal mine in far eastern Kentucky, I wondered if any miner could really feel safe with such fresh memories of the disaster that killed four miners nearby in the early dawn of May 20.
In the explosion that ripped through Darby Mine No. I in Holmes Mill, near the Virginia border, mud and rock sprayed an office building nearly 100 yards away from the mine's dark entrance.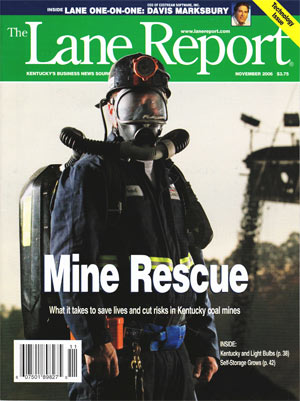 During the chaos that followed, alarms screamed and powerful ventilation systems flushed volatile gasses out of the underground maze. Rescuers and emergency workers from across eastern Kentucky descended on the small town and began the long, wrenching search for survivors.
Pearl Farler was one of those workers. A jovial man who knows the narrow mountain roads so well he drives them like freeways, Farler is captain of the mine rescue team at James River Coal Co. He and his men arrived shortly after the only survivor was brought to the surface. When it was clear there would be no other victims coming out alive, the mission quickly shifted to recovering bodies – four were found roughly half a mile inside the mine.
Farler had seen the fury of mine blasts before, but many of his team had not. So he sent some of the younger members underground to help bring the bodies out. It's the sort of thing a miner has to experience for himself to be able to grasp.
"You have to see the power, the devastation, the utter destruction, to know what you're dealing with," Farler said. "it was a bad thing, a tragic accident. But that type of training – I can't teach them that."
Perhaps that's why, as we chatted about it in his office over lunch, Farler hesitated to tell me much more. Who can explain to an outsider how it feels to meet death inside a cold, dark mountain?
Although huge advances have been made in mine safety since the 1960s, coal mining remains a dangerous job where small mistakes invite tragic consequences. Yet for all the media coverage of disasters like that at Darby or the explosion that killed 12 miners earlier this year at the Sago Mine in West Virginia, few Americans understand the real dangers of the job or what coal producers are doing to make it safer.
We have a love-hate relationship with the coal industry, which fuels more than 50 percent of the country's electrical generation. We decry the working conditions that miners live with every day, but we consume the product anyway and vote leaders out of office when energy prices rise.
I knew as little about mining as most Americans when I drove to Hazard to write an article about mine safety. I had never given it much thought.
Farler helped me understand the mines, because he thinks about their risks nearly every waking moment. In addition to his role on the rescue team, he's the safety director for Bledsoe Coal Corp., a subsidiary of the Richmond, Va.-based James River Coal. The day I met him, he was running in a field wearing an oxygen pack, barking orders at his team as they tried to save "victims" during a mock mine disaster. They practice year-round for mine rescue competitions and to be ready for the real thing.
Many companies have rescue teams, but Kentucky is the only state that also staffs its own teams – 11 of them are spread throughout the coalfields. In addition to training and traveling to contests, rescuers all have other jobs at the mines or with the state.
Federal legislation passed this year requires underground mines to be within an hour's drive from a rescue station. It also requires every coal producer to have a main team and a backup, which they can staff themselves or rely on another company or the state to provide. Teams must train twice a year in every mine for which they are responsible.
James River, one of the largest producers in Kentucky and the 22nd-largest coal company in the world by revenue, has two teams. Its rescuers are five-time national champions. It costs more than $100,000 for the equipment alone to outfit the 13 team members with oxygen packs and medical and communications equipment, according to Richard Douthat, James River's vice president for risk management.
Companies, including James River, were not always as serious about mine rescue as they are today. In the mid-1990s, many came to rely on state teams to cover disasters. James River went into bankruptcy in 2003 and scrapped its teams altogether for a couple of years, until new CEO Peter Socha decided the absence of rescuers sent the wrong message to miners and their families. He reinstated the teams.
Lou Mills, an engineer and safety director for James River's surface mines, is glad he did. Mills has recovered bodies after explosions and fought underground fires that were so intense he thought his clothes were going to ignite. He accepts no excuses for skimping on rescuers.
"It's almost immoral to not have a rescue team," he told me. "That's like the city of Hazard not having a rescue squad or an ambulance service."
But rescue teams are the capstone of mine safety, a last resort when all else fails and the worst happens. The single largest contributor to safer conditions today is actually mining's reliance on machines. Where conventional underground mining before World War II involved multiple teams of men and explosives, modem mining requires only around a dozen men working a remote-controlled miner and roof bolter to tunnel through a coal seam.
In the 1930s, 1,203 miners died in Kentucky producing 420 million tons of coal; 117 miners died in the 1990s to produce nearly four times that much.
Most mine deaths result from preventable accidents that do not make headlines: touching a live wire during electrical work, getting caught in moving machinery, lingering too long under an unsupported section of roof in the mine. In fact, fatalities plunged throughout the country after federal law mandated better training for miners in the 1970s.
Much of the public scrutiny of mine safety after this year's tragedies, however, has revolved around how prepared companies are for catastrophes like mine explosions. Why were the trapped miners at Darby carrying only a one-hour supply of oxygen? Why couldn't they communicate better with the surface? What took rescue teams so long to get to them?
Questions like those are often more difficult – and almost always more expensive – for companies to address. As it was with Hurricane Katrina, laws that aim to improve the response to mine disasters are often born out of emotional and political reactions to such events, rather than careful research.
Laws passed this year, for example, mandated that every mine in Kentucky receive at least three state inspections a year; previously, it was just two. The Environmental and Public Protection Cabinet, which oversees mine safety in Kentucky, "didn't feel more than two inspections was necessary," said cabinet spokesperson Chuck Wolfe. But "that's what the legislature wanted, so that's the way it is."
James River CEO Socha said the increased inspections would probably take a noticeable bite out of his company's production this year. "After Darby, all hell broke loose," he said. "Inspectors were shutting down the mines for two hours at a time. It doesn't take long for that to affect your productivity."
Legislators also turned their gaze on the emergency air packs that miners carry, called self-contained self-rescuers, or SCSRs. Previously, mines only had to provide miners with one SCSR, which generally lasts around an hour. The law now mandates that miners have near-instant access to more than one, and mines must also have caches of them stored at intervals along escape routes from the mine.
But unlike the law increasing mine inspections, the new SCSR requirement has met little public criticism from mining companies. Given how long it can take for rescuers to reach accident sites, most officials realize the need to buy victims as much time as possible. Steve Shell, safety director for Shamrock Coal Co. in Leslie County, said he recently put on an SCSR to try it out, and was surprised at how quickly he exhausted it. "After walking with one, I would definitely want to have a spare one," he said.
Still, the new law imposes significant costs on mines. A new SCSR can run around $800, and coal producers are now buying them by the thousands – so many that they are backordered for weeks, Shell said.
Such costs can be prohibitive. The price tag for a rescue team, for example, is too high for some small companies, especially ones that do not have enough men to provide rescuers and cannot get other teams to train in their mines. Some miners told me small companies might simply ignore the rescue team requirement.
Socha said that in coming years, safety costs could shift more production emphasis toward mountaintop and strip mining, where safety concerns are fewer, but public opposition is stronger because of the environmental degradation wreaked by such methods.
Historically, mine disasters have prompted safety controls and better mining methods that companies initially fought, but eventually came to embrace. That has played out for the better in the United States, which is the world's secondlargest coal producer and has the world's best safety record. China, in contrast, puts out slightly more coal than the United States, but with many times the fatalities.
For his part, Socha said James River plans to spend more than $6 million in mine safety improvements over the next couple of years. The company now holds quarterly safety summits, where mine directors talk about problems and how to fix them. They also meet with researchers and guest speakers to discuss developing technologies that could be used in mines in the future, like sophisticated two-way radios and underground imaging equipment.
If anything, what most troubles the mine operators I spoke with is a dangerous lack of skilled workers. High coal prices have drawn new companies into the industry and fueled higher demand for labor.
But mining is a career even many coalfield residents steer their children away from, and many experienced workers are approaching retirement. So as a swelling global appetite for coal meets a shortage of qualified workers, concerns grow that green miners could lead to more accidents. Farler said he would rather be short-staffed than have people underground who did not know what they were doing.
And that is why tough mining laws, despite efforts by the most careful and safety-conscious companies, are so important. Danny Trammell, superintendent at one of Bledsoe's coal preparation plants, said he does not mind the extra vigilance. He told of a time in his career at another company, when he pulled the body of a friend out of a coal pile after a storage bin suddenly sprung open and buried him.
"When you have to rake coal off of a dead man's face and it's a guy you've known all your life, you don't forget that," he said. "If it weren't for our safety inspectors, we'd have ambulances lined up out there."